A Brazilian adventure
One of our sponsored athletes, Rebecca Gallantree, recently qualified a 3m synchronised diving quota spot for Team GB at this summer's Olympic Games with a stunning performance at the World Cup. The event - hosted in Rio as a test event for this summer's showpiece event – gave Rebecca a fantastic insight into what life might be like in Brazil in just five months' time.
In her latest blog for us, she tells us about her highlights from the trip and gives us a glimpse into what life is like as an elite athlete.
Securing the spot for Team GB
The women's 3m synchronised event is a really competitive one, with more than 10 teams capable of getting one of the remaining four places available for the Games. My partner, Alicia Blagg, and I knew we were capable of securing a spot if we had a good day…and we did!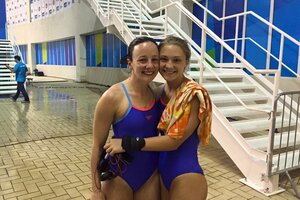 Enjoying some Jamaican magic
Watching Yona Knight-Wisdom, my Leeds team mate and Jamaica's only diver, dive his way to a world silver medal and a spot at the Olympic Games is something I will remember for a long, long time! It was truly one of the greatest moments in diving history, and means that he is the first Jamaican male diver to ever qualify for the Olympic Games. Keep an eye on your screens for 'Cool Runnings 2'!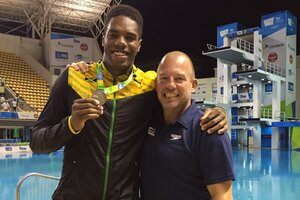 A look at what's to come
Being able to experience the Olympic pool, and having a little bit of insight into what it will all look like in the summer was a great experience. Everyone knows Brazil can throw a great party, so I'm sure they will host an incredible Games!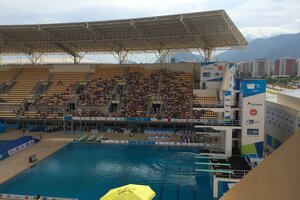 Exploring Brazil
One of the most amazing things about being an athlete is getting to travel the world, and sometimes we get to see a little bit of the places we visit. Rio de Janeiro is an amazing city with some great tourist attractions. I also took a couple of days at the end of my trip to visit Iguazu Falls, just on the border between Brazil and Argentina. These incredible waterfalls took my breath away, and made me really appreciate how lucky I am to have the opportunity to see such places.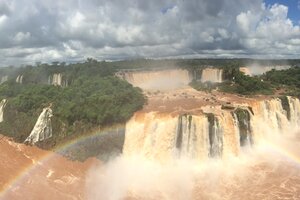 A team effort
We were the only team other than China (who are massively dominant in diving) to qualify a spot in every single synchro event for the Olympic Games, which is a fantastic achievement. I feel incredibly proud to be part of such an amazing team, with great people. It's like a second family!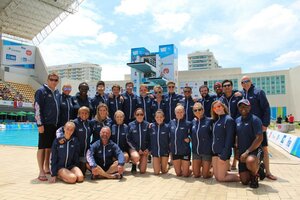 You can find out more about Rebecca here, and follow her progress over on Twitter.